With August rolling in,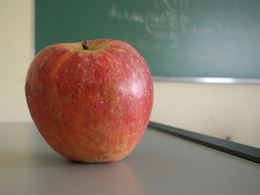 many of us will be either sending our kids to school, or going to school ourselves. Education is something that can cause excitement, but can also lead to stress, whether it be in small doses or large amounts. Long days in a classroom can definitely put stress on your back and shoulders. Sitting in a chair all day is not a fun to do, and can make you upset very easily. We all need relief and there are some simple at home ways to get that relief you are "kneading" for so long.
Exercise. It may sound redundant, but keeping a healthy lifestyle with exercise 3 or more times a week can definitely reduce back pain as well as stress, as it keeps your mind in a brighter place. Some recommended exercises are Back extensions, bridges and knee rolls, 10 of each of these exercises each and every day will allow for a reduction in lower back pain as well as a clear state of mind.
Healthy Dieting. Eating a balanced and complete 3 meals a day will help with your overall mood and mindset when heading to school, or any day in general. One of the most important things to remember is that you cannot skip out on Breakfasts. The energy provided from the first meal of the day is crucial to your mindset and ignoring this meal can cause for foggy and decreased brain productivity. Make sure you include many proteins in your breakfast, this can be anything from bananas, peanut butter or something of your choice that contains high proteins.
Sleep. By far the most important thing on this list is sleep. Getting sleep is so important to how you will react and feel the next day. Depending on your age, people need different amounts of sleep.  Most people do not get the amount of sleep that they need. There have been multiple studies about the amount of sleep that students in high school are getting, the average has been 6-7 hours. That is 3 hours short on average. Getting the required sleep is very important for your brain, as it lets you focus on things clearly and consciously. There has been a trend seen in students, the more sleep you get, the higher your grades are. This is not true to every student, but it shows a good baseline and shows the  importance of getting those extra 3 hours of sleep can be to testing and grades
Massage. Receiving mobile chair massage is an excellent way to break up a mid-week slump. Your massage chair therapist will work on your traps, neck muscles and rhomboids. These are the key areas to reducing your stress levels and cause you to relax and focus. On average, a mobile massage session will last about 15 to 30 minutes. This is great benefit because it can fit into almost everybody's schedule between classes, work and any other important activities your day consists of.
Your mobile massage chair specialist understands your stress and where it's key points lie and how to reduce stress very quickly, allowing you to charge through the week with full confidence!
My mobile chair massage business in Maryland received this review showing how we can be YOUR ticket to stress-relief.
Great "A professional and satisfying massage to break up a day in front of a computer. Would recommend if you're in need of some midday relaxation." Client, June 2017
Why "knot" give Massage Kneads a try to get your wellness program in place to allow for a six month renewal before 2018 is here.
Please buzz me, Janet Constantino, CEO of Massage Kneads, @ 404-664-3221 or shoot me an email @ janet@CorporateMassageKneads.com to get your wellness renewal program started.