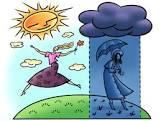 It seems that the weather pattern lately has been a lot like this:  warm, wet, cold and rainy and then warm again.  Is this the way it feels for your city? If so, it is time to make the most of the sunshine while it lasts.
If the short, dark days are getting you down, what can you do to feel like yourself again? There are a few tips to get your back on track to healthy days and ways.
Despite the fact that millions of us say we've suffered a winter-related low mood, it can feel as though the winter blues is just a myth. However, there's sound scientific evidence to support the idea that the season can affect our moods.
Most scientists believe that the problem is related to the way the body responds to daylight. One theory is that light entering the eye causes changes in hormone levels in the body. In our bodies, light functions to stop the production of the sleep hormone melatonin, making us wake up. Shorter daylight hours in the winter cause our bodies to produce higher melatonin, causing lethargy and symptoms of depression.If you're going through a bout of winter blues, lack of daylight is probably playing a part.  The best idea is to enjoy some daylight and sun when the weather warms up during the brief periods of winter.
To fight the mid-winter blues, It's important to eat well during the cold months. Winter blues can make you crave sugary foods and carbohydrates such as chocolate, pasta and bread, but don't forget to include plenty of fresh fruit and vegetables in your diet.
There is another weapon against the seasonal slump: keeping active. Thirty minutes of vigorous exercise three times a week is effective against depression, but even lighter exercise will have a beneficial effect, too. If you have a tendency towards SAD, outdoor exercise will have a double benefit, because you'll gain some daylight. Activity is believed to change the level of the mood-regulating chemical serotonin in the brain. It can also help by providing a pleasant change of scene, and helping you to meet new people.
Another way to beat SAD is receiving a chair massage! Chair massage has been thought to increase productivity and increase serotonin rates, relaxation, stress-relief which all help combat the effects of the SAD. Massage Kneads is a business that provides on-site corporate chair massage that will aid employees in fighting depression!
Massage Kneads, the on-site chair massage company in Maryland, has clients large and small to cover your wellness "kneads." We enjoyed this recent review of our services from one happy employee.
Very Relaxing
"This was my first chair massage but I'm an avid spa participant. This 30 minute chair massage was impressive. I didn't think I'd get a benefit of such a short massage in a sitting position but it was actually surprisingly good. I can see a benefit in doing it a couple of times a month."
If on-site corporate chair massage sounds like a program that can be incorporated into your business and wellness program, I hope to hear from you. Please buzz me, Janet Constantino, CEO of Massage Kneads, at  404-664-3221 or shoot me an email @ janet@CorporateMassageKneads.com.
Escape. Experience. Enjoy.