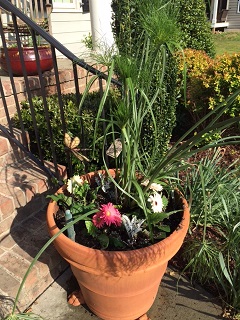 Spring is here so it is time to reset, refresh and renew.
This is my favorite time of the year because the new season offers hope for renewal and the time to enjoy the rebirth from the long and dark winter.  With this sense of renewal, one often feels the inspiration to set new goals and boost our creative energies.
In preparing for this blog, I researched the topic of renewal of interest. It is defined as "an instance of resuming an activity or state after an interruption" AND "the replacing or repair of something that is worn out, run-down, or broken."
With spring being a favorite time of year, I personally add extra projects to my TO DO list as the result of clean, well organized closets and a pollen-free screened-in porch are well worth the time and effort. I also try more outside activities to enjoy the sunshine while boosting my vitamin D levels. These new ideas and extra incentives offer me hope to enjoy the weather for the coming months.
What is broken and in "knead" of repair in your wellness activities? What new changes can bring maximum results for a new and improved you?
Keeping joyful and healthy during spring is vital to our overall health and well-being.   As spring is time for renewal, it's time to let go of things that no longer create joy or happiness. These can include relationships, frustrated emotions or personal items that have lost their flare or interest.
Corporate on-site chair massage can bring wellness into your office with minimal cost while offering many great benefits.
Massage Kneads, the on-site chair massage company in Maryland, received this review earlier today.
I think this client sums it up best as this client writes of renewal and her review demonstrates how refreshed one can be following a great chair massage!
Chair massage
"I'll tell you I wish it was longer. David did a wonderful job. I have issues with neck and scapula muscle area. I feel so good this week. If I had that once a week I am pretty certain I would be pain free in these areas after just a few visits. Sign me up for next time he is here! Great guy too!"
Please buzz me, Janet Constantino, CEO of Massage Kneads, @ 404-664-3221 or shoot me an email @ janet@CorporateMassageKneads.com to get your wellness renewal program started!
Escape. Experience. Enjoy.