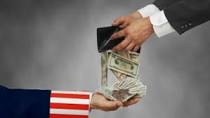 It's February and even though the groundhog predicted six more weeks of winter last week, spring is drawing near. As my daffodils are ready to burst so is my file with last year's tax information. Yes, February marks the start of the tax season as the 2016 documents have been sent and sit awaiting my attention and patience.  I am thinking that many feel the same way this year with taxes – best to get them completed and in early for less stress.
As many of you probably already know, Tax Day this year is April 18th, 2017.  There are two reasons for this date change: April 15th is on a Saturday this year AND the District of Columbia celebrates a special holiday that next Monday, April 17th. Hooray for those that wait to file your 2016 taxes!
Here are some interesting facts that I found online, 137.3 million returns were filed in 2015, 87% of which were filed electronically with the others that followed in paper returns. It seems that electronic returns have become more mainstream, just like on-site wellness programs for offices across the region!
Massage Kneads is fortunate to have repeat clients requesting chair massage for their staff each year. I have received a few requests already so far this month and jobs have been confirmed with contracts signed.  I know and can appreciate that many accountants are working really hard this year with long hours as witnessed by the requests which include Saturday hours (breakfast is provided for all) and later evening hours totaling twenty hours in two days.
We adore working at accountant offices. These organizations typically run on time so they have very little worry or oversight with the management of massages, easy to schedule for chair massage and there is very little talk as we get down to the business at hand: on-site chair massage.  Typically, clients are quiet upon the completion of their massage with brighter eyes, the feeling of relaxation with a softer gaze as they return to the many hours of work ahead.
My hope is that each employee would welcome our services like this office worker did recently.
Very Relaxing
"This was my first chair massage but I'm an avid spa participant. This 30 minute chair massage was impressive. I didn't think I'd get a benefit of such a short massage in a sitting position but it was actually surprisingly good. I can see a benefit in doing it a couple of times a month…I would recommend this for sure. "
If you do not already know the reasons for on-site chair massage, this work allows for relief for back and neck pain (associated with long hours at the desk.)  It is also a stress-relief and is known to increase productivity.
If on-site corporate chair massage sounds like a program that can be incorporated into your business and wellness program, I hope to hear from you. Please buzz me, Janet Constantino, CEO of Massage Kneads, at  404-664-3221.
Escape. Experience. Enjoy.