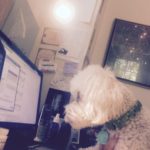 As a dog owner, I like to think of the many benefits of taking your dog to the office. I have discovered this to be a new trend when I visited local shops these past few months!  Lately, I have seen dogs out with their owners at a coffee shop on warm summer mornings. Dogs seem to enhance our daily activities, making otherwise mundane tasks enjoyable.
What are the benefits of letting your dog tag along on your daily errands you ask? It tends to be a "win-win" solution for employers and employees alike.  For employers that are more flexible with this arrangement, it allows for less worry with employees working around caring for their dogs. Employees can stay longer at work finishing a project without the worry of beating the clock to meet the expectations of their dog at home requiring their attention.
Bringing a dog to work encourages physical activity in the owner during the work day which allows for a refreshing recharge and a breath of fresh air in between conference calls and meetings. It also encourages bonding between co-workers and their pets, which leads to a more positive work atmosphere!
In researching this blog, I was not surprised to find that the Centers for Disease Control and Prevention note that owning a pet can decrease blood pressure and cholesterol levels.  It further went on to state that there are increased opportunities for exercise daily and more opportunity for socialization inside and outside of that 40 hour work week.
Thus, I ask you, what is your office protocol on having pets in the office? Maybe it's time to reconsider this as part of your wellness program! The benefits are many as long as the owners are in tune with their pet within their working environment.
Would the Human Resources department be open to other low-cost ideas to promote wellness? If so, why not consider my company, Massage Kneads? My mobile chair massage business based in Maryland has many options to offer chair massage – both employee and employer paid massage.
One client sent us this testimonial updating the difference a day with on-site chair massage!
Amazing!
"Just recently scheduled my first massage with Massage Kneads. I was blown away. It was only 15 minutes but was 100% worth it and kept me relaxed for the rest of the day. Will definitely be looking forward to my next visit and I would HIGHLY recommend Massage Kneads. Thank YOU!!!!"
Please buzz me, Janet Constantino, CEO of Massage Kneads, @ 404-664-3221 or shoot me an email @ janet@CorporateMassageKneads.com to get your wellness renewal program started!