Monday morning is sometimes slow to get re-oriented with the pending "To Do" list along with attending to the email inbox. Thus, I was slow start to the day (with coffee in hand) yesterday as I dug into the inbox to sort through the priorities for the coming week.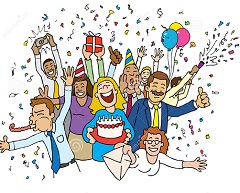 I was pleasantly surprised to get a reminder that ten years ago today, I began my business, Massage Kneads in Maryland. My mood picked up as I remembered that today was significant as Massage Kneads celebrates its' birth ten years ago today!  It goes with the saying that time flies when you are having fun!
In 2006, Massage Kneads was a new company offering corporate chair in Maryland. Back in 2006, Maryland companies were just thinking about offering wellness programs to enhance and support employee health and experience in the office. Since then, Massage Kneads has expanded to many states along the eastern seaboard and as far and wide to the great state of Texas.
Just for a kick, I looked back at what was of topic ten years ago today and found these little gems.
Bob Barker and the "Price is Right"
Mariah Carey, The Red Hot Chili Peppers, The Black Eyed Peas each captured three nominations for the American Music Awards.
Steve Irwin, the "Crocodile Hunter", dies
Looking back at those little facts from 2006 makes me realize how long ago ten years really was and how far Massage Kneads has come in the world of wellness while offering on-site chair massage.
The years have rolled by and I am filled with gratitude to have chosen this massage as my life's work.  My company, Massage Kneads, continues to push me to exceed client's expectations of myself and others that work with me. Wellness programs are "in" now as the public, large and small corporations seek corporate chair massage, chair yoga, stretching and exercise as a cornerstone for increasing productivity while decreasing stress.
With last week's review, I feel that Massage Kneads continues to exceed expectations of every massage client working in a corporate offices.
Exceptional
"Once again, I cannot express enough what a benefit such a service such as this one by Massage Kneads, truly means to a healthy, and productive day. I have gained such benefit from the service that I gave my co-worker a session. Now they too agree… Wonderful and a real bargain for the convenience and quality of service. "
With hope and gratitude, Massage Kneads asks that your company consider selecting us as your chosen chair massage provider as we have the experience to help you with all your corporate "kneads."
Corporate chair massage is easy to schedule with employer OR employee paid programs. Schedule your corporate on-site chair massage program today by simply contacting  me, Janet Constantino, CEO of Massage Kneads. I can be reached at 404-664-3221 or by email @ janet@CorporateMassageKneads.com.
Escape. Experience. Enjoy.