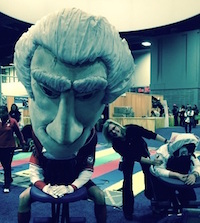 Since 2006, Massage Kneads has been happy to assist corporate massage clients in Maryland, Washington, DC and Virginia in tailoring a program that works best for your company.
Workplace Massage Events and Programs Across Central Maryland
We offer two types of corporate mobile chair massage programs for our clients:
Corporate sponsored on-site chair massage (employer pays hourly rate for chair massage).  This program is usually used for health fairs where employees enjoy a corporate sponsored event.  Typically, there are different vendors within the health arena offering different services and/or programs.  Chair massage creates a lot of buzz (and smiles) as employees receive a "mini" chair massage at no cost.
The "Employee Pay As You Enjoy" chair massage program (employee pays for their chair massage) is also of interest.  This program is offered through an online scheduler, so the employee can simply schedule and pay online with a credit card for his/her own massage. (Tipping in this more formal setting is appreciated but not required.)
Both programs are:
Onsite chair massage is focused on the client's neck, shoulders, back and arms
Mobile and onsite within your corporate setting
Efficient with no travel time and valued for stress reduction
Reasonably priced
Like massage, we are flexible!
Below, please find the two most requested time allotments for corporate chair massage within your office.
15 minutes (4 clients per hour)
20 minutes (3 clients per hour)
*Tipping is optional but always appreciated.
The most requested program is corporate chair massage which requires a two hour minimum with a signed contractual agreement. Additional travel fees may apply depending on your corporate location.
All clients must have a signed contractual agreement prior to any workplace wellness event.  House calls/private clients are also an option for individual clients that have experienced our superior service with corporate chair massage.
All pricing is determined by your "kneads" and location.