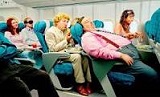 Traveling and exploring the world can be a fun and exciting experience. However, traveling can often be filled with a lot of stress and difficult situations that can leave you feeling very disoriented, tense, and less able to fully enjoy your experience in a new place after suffering the effects of transportation.
I have recently been traveling and have personally experienced a lot of the negative outcomes of long plane rides, jet lag, tense muscles, and overall discomfort. There is nothing that I wanted more than to relax and soothe my strained muscles. Believe it or not, massage can be a wonderful and extremely beneficial treatment for the stresses of traveling. Car rides, train rides, bus transport, travel by boat, and planes are a few of the many vehicles through which travelers can voyage. All of these often include cramped spaces, long hours without moving, overall fatigue, and other discomforts. Plane rides especially can leave travelers feeling exhausted, stressed, and extremely jet-lagged. As more people increasingly travel and experience the stressful problems often associated with transportation, it is important that you address the common issues of cramping, anxiety, and exhaustion when you decide to go on your next vacation, world travel, or other exciting venture that involves transport.
Air travel in particular has become more popular in past years and can often produce some of the worst consequences, such as jet lag, disorientation, confusion, and tension. The first way that massage can greatly improve your condition after plane travel is by improving your sleep, especially if you are in a situation where you change time zones. The amount of time zones that an individual travels through determines the length of jet lag, and serious differences in time zone can often cause fliers to experience disorientation as they try to adjust to a new environment and schedule. Travelers can also suffer from swelling, insomnia, fatigue, headaches, lack of concentration, and memory issues. To improve the chances of avoiding these consequences, you should look into a massage upon landing. Not only will this make you overall more relaxed, but it could also decrease any swelling in your limbs, it could ease tense muscles, and it could overall deplete the amount of stress that is often associated with traveling.
Also, one of the most difficult things about arriving in a new place is adjusting to a novel lifestyle, a new time zone, a diverse environment, different food, and more. Traveling is not often easy, nor is it typically peaceful and particularly fun. It can often be filled with many high-stress situations. I know that I would have loved a massage after arriving in my new destination, and I would highly recommend that you look into increasing your relaxation, improving your sleep pattern, and relieving stress and tense muscles through a post-travel massage the next time that you decide to voyage to a new destination.
If you have been traveling a lot and "knead" some relaxation, call CEO Janet Constantino and check out www.CorporateMassageKneads.com to see how our massage and wellness therapists can best serve you!