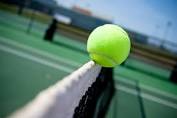 This past weekend was so exciting with the tennis finals at Wimbledon. With the history and level of play from the professionals, it was exciting to get an inside look at the journey and focus needed to have the honor of holding that very special trophy as the winner of the final match.
Watching Roger Federer take the men's singles title was amazing on Sunday.  He showed such a cool and calm demeanor through the match as he focused on each and every winning shot. The win was his for the taking!  What a thrill to see him so proud and full of emotion and possibly surprise during the ceremony while acknowledging his family and team that supported him throughout this year.
The interesting part of his journey was his six months off at the end of last year to rest, repair and fully commit renewal and recovery.  With his many years of playing tennis, his body must have been stressed, tired and in need of repair.
This got me thinking, are many office workers feeling the same with the constant stress and wear and tear from sitting six to ten hours per day while managing the daily demands of their employer? Not many employees are able to take six months off to enjoy the same luxury as Roger Federer.  However, large and small employers alike can bring wellness to the office with minimal cost and maximum returns!
I am hopeful that some companies will consider mobile chair massage as one possible option to offer renewal, pain-relief and recovery to their employees.
Chair massage therapists can focus on the tight muscles associated with overuse. The traps, rhomboids and neck muscles are the first areas to be worked on which allow for stress relief and great range of movement. Typically mobile massage sessions are either 15 or 30 minutes in length and are of great benefit to those sore and aching muscles.
This review was sent in recently and brings the message home.
Great
"A professional and satisfying massage to break up a day in front of a computer. Would recommend if you're in need of some midday relaxation."
Why "knot" give Massage Kneads a try to get your wellness program in place to allow for a six month renewal before 2018 is here.
Please buzz me, Janet Constantino, CEO of Massage Kneads, @ 404-664-3221 or shoot me an email @ janet@CorporateMassageKneads.com to get your wellness renewal program started!