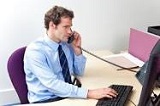 Work life can be super demanding. Deadlines, meetings, work, people on edge, and much more can create the "perfect storm" of stress that can leave you dreading your daily commute to the office. I'm sure that I don't have to make an argument for why work can be personally taxing (as you have probably experienced it at some point in your life), but I would like to create a small list of possible ways to maintain a positive outlook that could make all the difference in your personal work experience.
Take responsibility of your mental and physical health. Do not push yourself beyond your limits. Give yourself breaks and grant yourself grace on days where you might not be functioning to your full capability. Everyone has off days. Don't beat yourself up and relax when your body is clearly communicating that you need to just stop, breathe, and rest.
Avoid falling into a "pit" of pessimism. When you start thinking negatively and begin to feel like everything is chaotic, stop yourself and re-assess the situation. Don't get sucked into the thought processes that could leave you coating everything in a tint of negativity. Most likely, it will work out. You will move on. And re-evaluating the situation could lead to a new outlook and a potential solution that you hadn't previously considered.
Try new methods of communication. One of the most prevalent stresses for any environment is miscommunication and the lack of a clear exchange of meaning between 2 parties. Don't lose hope if your point was not understood. Instead, try again through different tactics and try to handle the matter by discussing it with new words and in a different manner.
Do something nice for someone else. Multiple studies have shown that selfless care for others produces positive emotional results in the do-gooder. Not only will a nice action towards a fellow co-worker make their day, but also it will likely leave you feeling uplifted and more positive overall. Buy them a coffee, take them out to lunch, help them with extra work, or just give them a friendly smile and ask them how their day is going. Relationships can be extremely encouraging when stress seems to have taken over, and if you can surpass the stress in your life and reach out to someone else, you can create a situation that is win-win for both you and the person to whom you reach out.
The work environment can be stressful, but it doesn't have to stay that way. It can also be a wonderful and positive place for encouragement, friendship, and positive experiences. If you are looking to create a more positive work environment and relieve stress while also creating a more optimistic atmosphere, try bringing in a massage therapist and treating your fellow workers to a much-needed chair massage. Not only will your fellow workers feel better, but also it could improve the well being of you and your fellow employees and could ultimately leave people ready and rearing to go to work everyday.
Massage Kneads is ready to visit your corporate office for your next work place wellness event. We would love to work with you to create a more relaxing and stress-free environment in your office! Contact CEO Janet Constantino today at 404-664-3221 or by email, janet@CorporateMassageKneads.com!