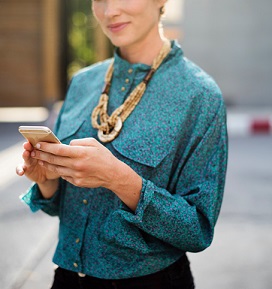 A common issue I have seen throughout the last couple of years is distractions interfering with efficiency, productivity and focus. These distractions can range from a wide variety of different things in your life like your cell phone, emails, incoming mail, etc.  Some of these situation are in  your control and some out of your control. But, fear not, I have found out a few useful techniques to help you out with keeping those distractions out of your life. Some of these I have used in the past and some of them are suggestions from others out there with the same struggles.
Put that phone down!
If you're working for a company or a business, you most likely have a cellphone. They're a great way to contact your boss and your coworkers with ease. Cell phone communication can speed up your productivity. Using email has sometimes know to be more time consuming as responses are not immediate.  Both tools can increase productivity as long as they are monitored and use appropriately. They can also be our worst enemy in terms of distractions with Facebook, music, YouTube all readily and easily available.
I know you don't want to miss that tweet from your favorite celebrity, interest group, etc.  Neither do I but when it comes to work putting the phone away and out of site can be the best tool to avoid distraction.  One suggestion is switching off notifications for certain apps during work hours to avoid temptation.  One simple modification with your phone settings will keep you on task and hard at work without making you miss an important update!
There's a time and place for that new episode.
I know we all have our guilty pleasures when it comes to television shows. Some of us can't wait to see who gets eliminated or what happens next. It happens to everyone, and that's mainly the point of television, to get you hooked. It's okay to watch these shows, cause lets face it, we all do. I have a few tricks up my sleeve to help you out if you're struggling with this issue too.
You come home from a long day of work and you still have the giant pile of paperwork to finish up, but your show is on in 10 minutes. The solution to this common problem is actually a lot more simple than it may seem. You can add the show to your DVR and allow for the episode to record so you can watch it at your own convenience when you're through with all of your work. I don't know about you but when I get to sit down and watch my favorite program after all my work is finished, it's much more satisfying.
Relax!
With these new tricks on your mind, you'll be able to work through the work day without distraction. Meeting deadlines and finishing projects will come much easier once you spend less time (and energy!) with non-work related distractions.  These two methods work hand in hand with each other. If you're on your phone less and work harder throughout the day, you might be able to go home without extra things to do which may just allow for more down time at night and during the weekends. 
You'll notice you have more time to yourself to do things you want to do outside of work. You might just realize you have more stress than you know.  Working those long days at the office definitely puts a damper on your emotional and physical health. A relaxing massage from Massage Kneads has been known to help out with stress and increase productivity during the work day. So take a break from the big things in your life and schedule a chair massage today!
This review was just emailed to us today. Massage Kneads is confident to focus on your "kneads" to help decrease your stress while increasing your productivity following your mobile chair massage.





 
Excellent and Attentive
"Janet always does a good job and is very attentive to specific problem areas. She listens and adapts to each client's preferences. " from Brian N., November 2017
Being productive and efficient during work hours is the focus. Staying well mentally and physically with mobile chair massage can help you through a long week at the office.
Please have your HR office contact me, Janet Constantino at 404 664 3221 or via email at info@corporatemassagekneads.com to schedule your wellness program.
Escape. Experience. Enjoy.